"Des Corps Naturels"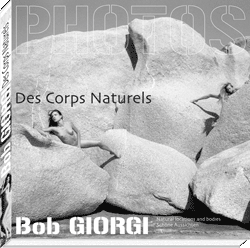 "Naturals locations and bodies"
In this fine art nude book, I invite you for a walk with my friends, my models in the southeast of France.
"Naturals locations and bodies" (Des Corps naturels) appeared in my imagination as a vision of beautiful, young women laid bare and natural..
But "Décors naturels", a cinematographic term, is used for locations that already exist, as opposed to specially built sets for films.
So it just remains to me to say : camera, action…
The realization took near five years.
Chapter after chapter, you will find out new landscapes and news natural sets where take turn beauty, surprise and humour.

Texts in french, english and dutch
Cardbord cover
184 pages
Two color printing


Square format : 24,5 x 24,5 cm
ISBN : 9 782953 143607

price 38 € (+ shipping 12,30 € )